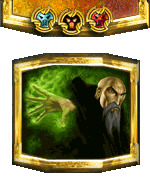 | | | | |
| --- | --- | --- | --- |
| | Monday, 11.04.02 | | ? |

The Orcs of Kor Comes to a Close

The Final two episodes are here! Click below to download Horse Lords and Lord Bane and take part in the epic struggle to control Illuria once and for all.

-Volkan


HORSE LORDS

After slaying all the dwarves there was only one thing to do, raid the Dwarven inns and drink drink drink. Dwarven brew is the best brew in all of Illuria, that is to say WAS the best brew. Some Orcs pondered if it was a good idea killing the dwarves, after all, who will make the beer now? Other Orcs played 'Toss the Dwarfs Head' until all hours of the morning.

Now all that stands between the Orcs and total rule over Illuria is the Horse Lords and Lord Bane with his Undead Legion.

Early in the morning, as you plan the next offensive, an orc rushes up to you in a mad panic!

"Horses, Hundreds of them. And Dwarves and Humans, just through the gap ahead".

You send your scouts to gather more information.
They return informing you that what is left of the Selentines and Dwarves have united with the Horse Lords in one last defensive stand. If they were to ally with Lord Bane they would be unstoppable. As unlikely an alliance as this is, you must take no chances.
Destroy all that remains of this rebellion.



LORD BANE

Many Orcs died, while attempting to take joy rides on horses. Other than that the battle was a huge success. With morale high, and skills honed after many victories, there was one foe left to conquer. Lord Bane himself, the evil of Illuria.

Banes reputation for being a complete and total bastard is well known to the Orcs. He often used Orcs as slaves. For many years they have been scared of Lord Bane, the evil from the north. But now, in this their final battle for Illuria, they show no fear. United with some courage and mostly sheer stupidity the Orcs begin their march across the river into Banes territory.

No Orc has entered this land and returned to tell the story. What evil awaits? And what of Banes Death spire guarded by Dragons? Are the legends true? If so, the battle will be tough.

Orcs from Kor have heard of your great success and wish to join the battle from the south. Lead the Orcs onto victory. Crush every skeleton, banish every wraith, destroy Lord Bane himself and the Orcs will have Illuria.









Sign-up NOW!
Tournament Info


Weekly Poll

Warlords
Warlords II
Warlords III
Warlords Battlecry
Warlords Battlecry II