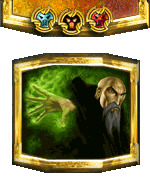 | | | | |
| --- | --- | --- | --- |
| | Tuesday, 09.17.02 | | ? |

The Campaign Continues...

Our 8 part saga continues to take form as we unleash parts 5 and 6! Take part in epic battles as you build a massive empire and amass an army of Orcs in your struggle to conquer the Gray Dwarves!

-Volkan


Selentia

The Orcs, as expected, had a rough time on the boats. A constant stream of spew could be seen flowing behind each ship. But after many days of travel, you finally make it to the northern island of Selentia.

The Orcs however are not as keen to set foot on the main island just yet. They are not fit for battle, as many of them are still seasick. They have sent you in ahead of them to set up camp and rid Selentia of its defenses.

Selentines are of human origin, however they are not as strong minded as the humans of Siria. If you construct a level 5 keep, they will be in awe of your power and most likely flee from the region.




GRAY DWARVES

Once a fifth level keep was constructed on the main land, the Orcs flooded into Selentia driving out what remained of its inhabitance. There was much dancing, and singing, and mud wrestling in the nearby swamps.

A few Orcs got a bit adventurous and wandered into the land of the Gray Dwarves. Their bodies are now on display near the capital of the dwarves as a warning to any would be dwarf killers. As news of this spreads throughout the Orc camp, a feeling of revenge stirs. "Kill the dwarves, slit their throats, spill their blood!" chant the Orcs. For some unknown reason, Piggy, a young Orc, runs for his life screaming 'Oh no, not again'.

It's time for revenge! The dwarves must pay for killing the Orcs. Goblins stand proud, knowing that most of the enemies will be smaller then they are. You lead your Orcs into battle with one objective, to slay all the dwarves.









Sign-up NOW!
Tournament Info


Weekly Poll

Warlords
Warlords II
Warlords III
Warlords Battlecry
Warlords Battlecry II